Roll over image to zoom in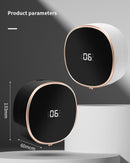 Description
Our Automatic Soap Dispenser revolutionizes your hand-washing routine with its cutting-edge features and exceptional performance. With an optimal gas-liquid bubble ratio of 12:1, it generates rich, nano-scale foam that effectively covers your skin surface and penetrates even the tiniest pores. Say goodbye to inadequate coverage and hello to a truly thorough and refreshing hand-washing experience.
Featuring a generous 280ml capacity, this dispenser can hold enough liquid to last your entire family for an impressive 50 days. No more constant refilling or running out of soap at crucial moments. It's the perfect solution for busy households, ensuring convenient and hassle-free hand hygiene for all.
Equipped with a high-capacity 1200mAh lithium battery, our soap dispenser offers reliable performance and longevity. The USB charging cable enables fast and safe charging, giving you peace of mind and eliminating the need for frequent battery replacements. Stay powered up and ready for clean, germ-free hands at all times.
With a lightning-fast 0.25s foaming speed and a wide 3-6 cm sensing area, our dispenser provides quick and efficient dispensing with minimal effort. Simply place your hand within the sensing range, and the foam is instantly dispensed, allowing for a seamless and hygienic hand-washing experience.
Designed for versatility, our soap dispenser is suitable for use in various wet environments, including washstands and toilets. Its durable construction and water-resistant features ensure safe and reliable operation even in damp conditions. However, please note that this dispenser is not intended for body washing.
Crafted from high-quality ABS+PC plastic, our dispenser is built to withstand daily use and provide long-lasting performance. Available in classic white or sleek black, it effortlessly complements any bathroom or kitchen decor, adding a touch of sophistication to your space.
Product Information:
Material: ABS+PC plastic
Rated Power: 5W
Capacity: 280ml
Color Options: White, Black
Charging Voltage: 3.7V
Size Information:
Product Size: 133mm * 138mm * 60mm
Upgrade your hand hygiene routine with our Automatic Soap Dispenser and enjoy the convenience, efficiency, and cleanliness it brings to your daily life. Experience the future of hand-washing technology today.
Payment & Security
Payment methods
Your payment information is processed securely. We do not store credit card details nor have access to your credit card information.
---
Security