Roll over image to zoom in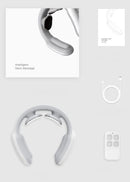 Description
A neck and shoulder massager is a smart device specifically designed to target the muscles in the neck and shoulder area, providing relief from tension, stress, and muscle tightness. These massagers typically feature various massage techniques, heat therapy, and adjustable settings to customize your massage experience.

The magnetic impact of this neck and sholuder massager promotes blood circulation and relaxes local muscles. The electrode slice design provides twice the massage efficacy. Built-in healthy magnets provide electric pulse massage to improve the nutritional state of cells and play a variety of healthy massage roles, which can be applied together on the back, waist, arm, shoulder, and neck massager, which has a built-in health care magnet, improves the nutritional status of cell tissues, and plays multiple health massage functions.
1. Through low-cycle pulse technology: this neck and shoulder massager penetrates 3-5 centimeters below the skin to open the pain points and meridians, and lighten the pain of the cervical spine.
2. Constant temperature massage: A hot compress at 42℃ can relax blood vessels, relax muscles and bones, accelerate blood circulation, and relieve cervical pain.
3. 3 massage modes and 15-step force adjustment: Acupuncture and moxibustion mode, massage mode, and knocking mode.
4. Shut down at regular intervals:The default 15 minutes after an automatic power failure, safer, more assured.
5. USB charging: 1600mAh battery, charged for 2 hours, massaged for 15 minutes every day, lasted for about 1 month. 
Payment & Security
Payment methods
Your payment information is processed securely. We do not store credit card details nor have access to your credit card information.
---
Security