Roll over image to zoom in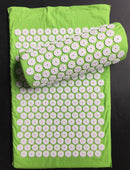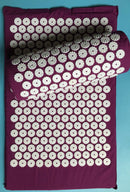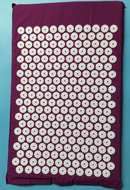 Description
Discover the perfect balance of comfort and convenience with our Acupuncture Massage Cushion Set. Designed with the ideal size and lightweight construction, this set includes a cushion measuring 67x42x2 CM and a pillow measuring 37.5x14x10 CM. Experience the ultimate comfort and support while enjoying the benefits of acupuncture massage.
Optimal Size: The cushion and pillow in this set are thoughtfully designed to provide you with the perfect size for your relaxation needs. The cushion measures 67x42x2 CM, offering ample space to support your body during meditation, yoga, or massage sessions. The pillow measures 37.5x14x10 CM, providing excellent neck and head support. Embrace a comfortable and customized experience.

Lightweight Design: We understand the importance of ease and portability. Our cushion and pillow are lightweight, making them easy to carry and maneuver. Whether you're attending a yoga class, traveling, or simply moving them around your home, the lightweight design ensures convenience and hassle-free transport. Enjoy relaxation anytime, anywhere.

Acupuncture Massage Benefits: The cushion and pillow feature acupuncture points that target pressure points in your body. Experience the therapeutic benefits of acupressure as these points stimulate circulation, relieve tension, and promote overall well-being. Allow the cushion and pillow to enhance your relaxation and self-care routine, providing you with a rejuvenating experience.

High-Quality Materials: We prioritize quality and durability. The cushion and pillow are crafted with premium materials that ensure long-lasting performance. The cushion is designed with a comfortable and supportive foam core, while the pillow offers a plush yet firm surface. Rest assured that you are investing in a set that will withstand regular use and maintain its shape and functionality.

Versatile Use: This cushion and pillow set is incredibly versatile. Use them during meditation or yoga sessions to support your body and enhance your practice. Incorporate them into your massage routine for added comfort and relaxation. The cushion and pillow can also be used as a comfortable support while sitting or lounging. Enjoy their versatility for various relaxation activities.
Experience optimal comfort and support with the perfectly sized Acupuncture Massage Cushion Set. Embrace the lightweight design for easy transport and convenience. Discover the benefits of acupressure massage on your well-being. Invest in a high-quality set that will accompany you on your relaxation journey. Achieve the ultimate comfort with the ideal size and lightweight construction of this cushion and pillow set.
Payment & Security
Payment methods
Your payment information is processed securely. We do not store credit card details nor have access to your credit card information.
---
Security