Roll over image to zoom in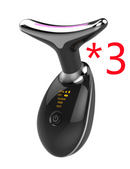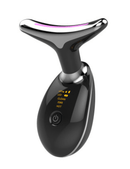 Description
Achieve youthful and radiant skin with our revolutionary neck and face massager. Using a powerful combination of vibration and tension stimulation, this device tightens the skin, enhances elasticity, and boosts skin metabolism, delivering transformative results.
Experience the dermatologically-inspired benefits of our neck face massager, featuring triple action LEDs that activate different skin benefits. This advanced technology rejuvenates and beautifies your neck and face, unveiling a glowing complexion that radiates confidence.
Maximize your results by pairing our device with serums, firming creams, or facial oils. By incorporating this innovative massager into your skincare routine, you can achieve results that are twice as effective, enhancing the efficacy of your favorite skincare products.
Indulge in a luxurious skincare experience with our device's customizable temperature settings. Mode 1 provides a soothing normal temperature, while Mode 2 and Mode 3 deliver approximately 42°C and 45°C, respectively. The gentle warmth not only promotes optimal absorption of skincare products but also creates a relaxing facial spa experience, leaving your skin nourished and rejuvenated.
Experience the benefits of heat massage as it enhances absorption, improves skin texture, and provides a fuller and more youthful appearance. Allow the gentle warmth to work its magic, revitalizing your skin and restoring its natural beauty.
Designed with ergonomics in mind, our neck and face massager features a streamlined massage head, effortlessly conforming to the contours of your neck, face, shoulders, and even arms. Enjoy a quick and effective 2-5 minute skincare routine every day, with results that speak for themselves.
Customize your massage experience with ease. The "blue" mode offers a gentle vibration ranging from 6000 to 8000 rpm, while the "green" and "red" modes provide medium and strong vibrations ranging from 8000 to 10000 and 10000 to 12000 rpm, respectively. Double-click the function key to adjust the intensity of each mode, finding the perfect massage mode for your comfort and preference.
Crafted with precision, our facial wand boasts high-quality ABS material with an exquisite pearl paint finish. It features two high-purity natural crystal indicators flawlessly embedded for added elegance. With a USB-C charging cable, a custom stand, and a quick start guide included, you'll have everything you need to embark on your rejuvenating skincare journey.
Unlock the secret to youthful and luminous skin with our advanced neck and face massager. Embrace the transformative power of our device and experience the skincare revolution you deserve.
Payment & Security
Payment methods
Your payment information is processed securely. We do not store credit card details nor have access to your credit card information.
---
Security