Roll over image to zoom in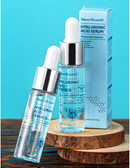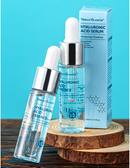 Description
Revel in the transformative benefits of hyaluronic acid with our exceptional facial serum. Crafted to perfection, this skincare powerhouse harnesses the remarkable properties of hyaluronic acid, revolutionizing the way your skin looks and feels.
Discover the secret to supple, radiant skin as our hyaluronic acid-infused serum works its magic. With a net weight of 15ml, this concentrated formula plumps and enhances your natural radiance, leaving you with a complexion that exudes vitality.
Immerse your skin in the ultimate moisture magnet found naturally within your own cells. Our hydration super serum utilizes the incredible hydrating prowess of hyaluronic acid to aid in cellular moisture retention, ensuring your skin stays nourished and revitalized.
Witness the remarkable power of our serum as it moisturizes your skin, bestowing it with a smooth and plump appearance. With its ability to target multiple layers of the skin, this potent formula minimizes the appearance of fine wrinkles, promoting a youthful and rejuvenated complexion.
Experience the ideal starting point for your skincare routine as our hyaluronic acid serum draws moisture into the skin, preparing it to reap the benefits of subsequent steps. With its unrivaled ability to enhance the efficacy of other ingredients, this serum sets the stage for a truly transformative experience.
Unlock the secret to firmer, more youthful-looking skin with our powerful serum. This meticulously crafted blend promotes a radiant complexion, imbuing your skin with a newfound vibrancy that turns heads wherever you go.
Bid farewell to rough, lackluster skin as our serum works its wonders. By smoothing and softening the skin's texture, it reveals a touchably soft and supple canvas that begs to be caressed.
Elevate your under-eye care routine with our serum, designed to combat dark circles and reduce puffiness. With regular use, this exceptional formula leaves your delicate eye area looking refreshed and rejuvenated.
Indulge in long-lasting hydration and experience a remarkable improvement in skin texture. Our serum unlocks the secret to a more youthful appearance, offering a coveted glow that stands the test of time.
Immerse yourself in the luxury of our serum's nourishing properties. With just a pea-sized amount, gently apply to your cleansed, wet skin, embracing the transformative effects that await.
Experience the unparalleled benefits of our serum, expertly formulated with both macro and micro hyaluronic acid molecules. This multi-layered approach ensures your skin receives a comprehensive boost, leaving you with a complexion that radiates beauty from within.
Payment & Security
Payment methods
Your payment information is processed securely. We do not store credit card details nor have access to your credit card information.
---
Security